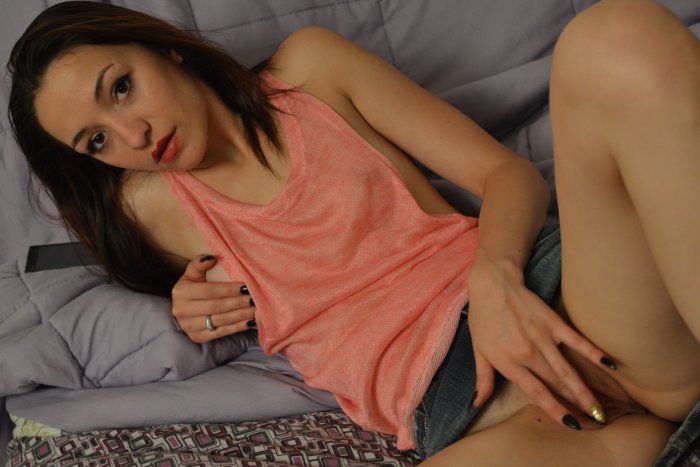 Hi, I'm Brianna! I am one of those girls that you just look at and just know that they are trouble. From the back, all that you can look at is my tight little booty that wiggles when I walk under my almost too short skirt.
From the front, I get complimented on my big brown… eyes. Not that there aren't other parts of me that get a lot of attention. What I'm talking about of course are my boobs. They might be considered a little on the small but who wants more than a handful anyway. They have nice perky nipples that are always hard and love to be played with. That is when they are not nearly being shown off without a bra under my see-thru shirt. What's better than that? A never-ending tan from lying out in the hot Florida sun that goes all the way down to a shaved pussy.
Ok, enough about my looks. Now about why I am really here. To tell the truth I am a bit of a pervert. Guys are supposed to be the ones that think about sex every other minute but I don't think there is a time that I am not thinking about sex. More than once I have stopped as I was walking down the street after seeing someone who is sexy. Eyes instantly drawn to their most private parts. My pussy gets so wet I have to go find someplace to masturbate. I have masturbated in some strange places.
This one time I sat in this restaurant because I saw this hot ass waiter from the window. I had just eaten lunch with my then-boyfriend. So, it wasn't even hungry but I did masturbate enjoying the view of Mr. hottie walks around the room with his nice ass snug in his tight pants. I slid my hand down panties and stroked the soft folds of my pussy lips.  I came so hard that this couple right next to me gave me dirty looks. Just thinking about it is making me wet.
The dirty looks didn't bother me. I kind of liked it. I loved it even better when I left my cum soaked panties in the seat along with a note to come to play with me later. For me, it has always been easy to know just who is going to be the best fuck and boy was I right about him.
Alright, I will admit that my earlier statement was a little off when I said that I am a bit of a pervert. I am a HUGE pervert. I love all things that are considered kink. And when I say the kinkier the better, I mean it. I doubt that you find a girl that can be as nasty as me. At times I have tried to out kink the person I am with. I like guys, girls, guys who dress up like girls, and girls that have dicks. Young, old, and every age in between I won't say no just because it is considered taboo. Actually, I love it if it is taboo. Role-playing, domination, submission, and of course masturbation!
Call me – Brianna at Extension 11
5 Minute Quickie $10
$2.00 per minute thereafter.



No Mail Outs to your home, and Private Discreet Billing!
You Must be 18 Years or Older to call!
US and Canadian Residents only!
---
You can create an account online, add funds to your account, and then go wild with your phone sex fantasy with any lady of your choosing. It's EASY! And there are cool features. You can send messages to every girl to ask her if she would enjoy your fantasy completely for free. You can save your "favorites" so you always have quick access to them! There is so much more!