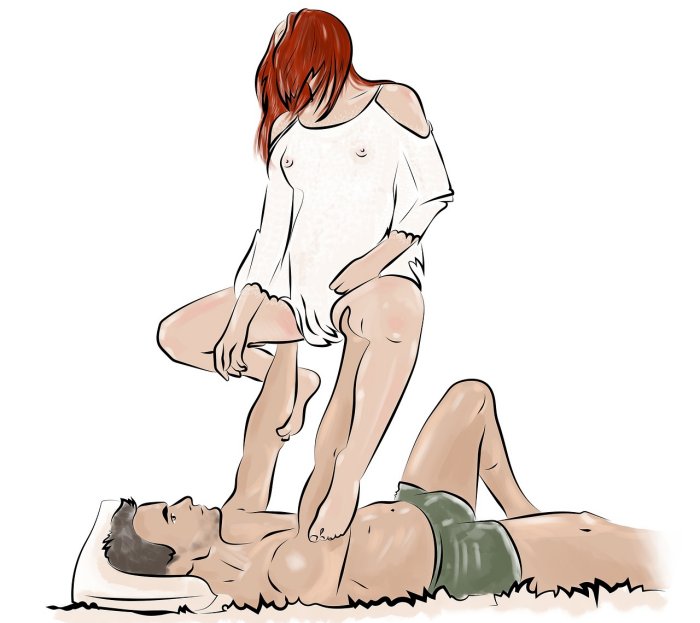 Sexy Yoga Session
You find yourself alone in the gym with an attractive new client. She's wearing tight, revealing workout clothes that cling to her every curve. The room is filled with the scent of sweat and anticipation.
You introduce yourself to the woman and flex your muscles as you take off your shirt. She eyes you up and down, clearly impressed by your physique. Her eyes linger on your abs and biceps as you approach her. What do you want to do next?
You offer to help the woman with some complicated yoga poses. She seems hesitant at first but eventually agrees. You guide her through various poses, your hands gently touching her body as you adjust her form. She seems to be enjoying it as she moans and lets out soft breaths.
You suggest a very complex pose as a dare, which she agrees to try. You ask her to lie flat on her back and hold her legs loose. Slowly you lift them pushing up toward her shoulders until they go as far as she can handle.
Sexy Yoga Gets Kinky
As you help the woman into the pose, you lean in closer to her and slide your hand inside of her fitted shorts. You can feel the warmth of her pussy through her panties as you reach for it. She lets out a small gasp and her eyes flutter closed as you begin to run your fingers over her sensitive crotch. You can tell she's getting turned on as her hips start to rock a little.
You slide your hand under the panties and slip your thumb into the woman's pussy, feeling her tightness as you begin to pump it in and out of her. Her eyes fly open in surprise and pleasure as you use your middle finger to start massaging her asshole. She moans softly as you continue fingering her, her body writhing with pleasure. You start pushing that finger into her asshole and announce loudly that today this session is going to be called "Fuck Yoga".
This is a sexy yoga fantasy that can be sensual or downright filthy depending on your imagination! Continue it with one of our sexy phone sex operators!
5 Minute Quickie $10
$2.00 per minute thereafter.



No Mail Outs to your home, and Private Discreet Billing!
You Must be 18 Years or Older to call!
US and Canadian Residents only!
---
You can create an account online, add funds to your account, and then go wild with your phone sex fantasy with any lady of your choosing. It's EASY! And there are cool features. You can send messages to every girl to ask her if she would enjoy your fantasy completely for free. You can save your "favorites" so you always have quick access to them! There is so much more! 

Interested?
Phone Sex is for men who want to open up, try new things, and let someone else take the reins of control without having it affect their real lives. Things that you act out in a fantasy roleplay are not always things you'd do in your real life. That's okay though and really what phone sex is intended for. Because calling a phone sex service isn't an emotional commitment or intimacy to anyone, it's fairly safe to say that you don't have to be cautious with your desires.
A phone sex operator is normally open-minded and can deal with nearly any type of fantasy. Great phone sex starts with the mind…it's YOUR fantasy but we can take over and bring you to a powerful climax! You can relax and not worry because all of our phone sex operators know how to handle any subject, topic, and fantasy. You see, our lovely horny phone sex girls do not have taboos. That means that literally, anything goes on your private and personal call. Come on, stroke your cock to a creamy climax with one of our naughty ladies that know how to deliver the ultimate in pleasure and fantasy.