With Fone Flirts
Phone Sex with Fone Flirts has no restrictions on any of your kinky fun! If you are tired of calling different phone sex services, or even phone sex girls and finding out that your fantasy is being judged, rejected, limited, or the operators just aren't interested…then give us a try. There are no limits on ANY fantasy here and we love it extremely dirty!  And our rate of $10 for Phone Sex is cheap enough to sample several Flirts, or you can always extend a call to talk longer too.
Pay by Phone
Pay Online
Your Privacy
Pay by Phone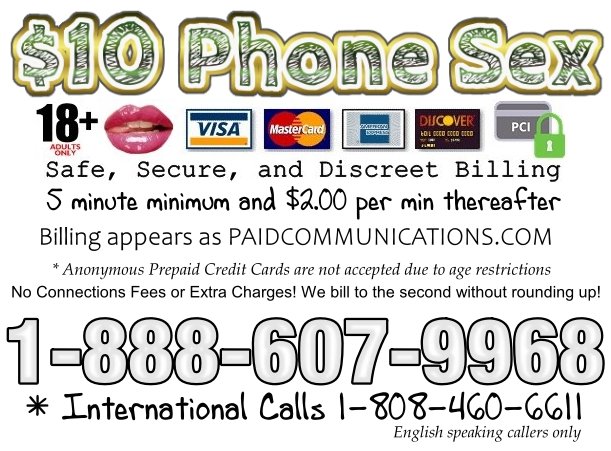 No Mail Outs to your home! Time for calls is billed down to the second and minutes are not "rounded up". Billing is more accurate with fewer errors. You have more control over what you spend with our automated system.
Pay Online
You can create an account online, add funds to your account, and then go wild with your phone sex fantasy with any lady of your choosing. It's EASY! And there are cool features. You can send messages to every girl to ask her if she would enjoy your fantasy completely for free. You can save your "favorites" so you always have quick access to them! There is so much more! 

Your Privacy
Because we deeply care about your privacy we have set up a telephone system where you can enter all of your own credit card details. You have the control over what you spend, no operator can rack up the minutes with us. But also your information is NEVER in the hands of a live human. 
The system is Automated. You'll enter all of your own details when you call. But when you call again, the system is so advanced that it will remember you by your telephone number. The result is much quicker call transfers and very little hold time to get to the action!
---
$10 Phone Sex
The call minimums are short at 5 minutes, so if you like phone sex quickies then you don't have to get committed to a larger block of time that you won't use.  There are no additional fees involved. No setup fees, connection costs, disconnection charges, or any other stupid bullshit that puts a damper on your phone sex fun! And did I mention the no taboo thing? Yes, my dear perverts… you can talk about anything your cock desires without someone telling you it's against the terms of the service.
This is a personalized phone sex service where you can talk to a girl in her home and the phone sex topics are between ONLY the two of you!  Your phone sex call is confidential, it's not recorded, it's not being listened to, and it's free from all restrictions! So go ahead… play out your kinky or nasty fantasy one-on-one and no one else will ever need to know! What kind of phone sex girls do you get? All kinds… different ages, locations, personalities, appearances, etc. Fone Flirts $10 Phone Sex Service offers a variety of girls available that specialize in everything that you can imagine! You can talk to a different girl every day of the week and at any time of the day or night too.
When you call the Fone Flirts Service you'll get a recording of Lynnea's voice that explains the rates, the billing, and the types of girls available. Listen carefully and then press 2 to be connected to an automated billing system where YOU have control of your money. Just select the girl by her Extension number and you are connected!
Check out the Ladies who are available. Read some of the Phone Sex Blog for more info on specific girls.