Hi! I'm Veronica, a 24-year-old grad student; I'm the total package of beauty and brains. I live in Tampa Florida where it can get pretty hot… and I don't mean just the temperature. Even though I am the girl-next-door by all appearances, I do have a kinky side. Yep, I admit it. My deep dark secrets are all sexual, dirty, and often quite NASTY. I am impulsive when it comes to sex with strangers; I like adventurous roleplaying, and my fantasies? Hmmm well they often stray into taboo worlds. I'm fun, flirty, and feminine, but with an edge. I adore phone sex, because I love to taunt and tease men. I might gain control over you with my powers of seduction. Or perhaps you'll turn the tables on me and make me your dirty slut. Call and ask for Veronica… let's explore our fantasies together.
---
Pay by Phone
Pay Online
Your Privacy
Pay by Phone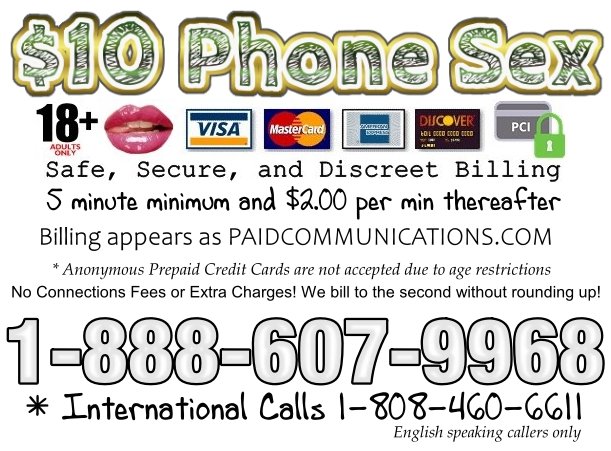 No Mail Outs to your home! Time for calls is billed down to the second and minutes are not "rounded up". Billing is more accurate with fewer errors. You have more control over what you spend with our automated system.
Pay Online
You can create an account online, add funds to your account, and then go wild with your phone sex fantasy with any lady of your choosing. It's EASY! And there are cool features. You can send messages to every girl to ask her if she would enjoy your fantasy completely for free. You can save your "favorites" so you always have quick access to them! There is so much more! 

Your Privacy
Because we deeply care about your privacy we have set up a telephone system where you can enter all of your own credit card details. You have the control over what you spend, no operator can rack up the minutes with us. But also your information is NEVER in the hands of a live human. 
The system is Automated. You'll enter all of your own details when you call. But when you call again, the system is so advanced that it will remember you by your telephone number. The result is much quicker call transfers and very little hold time to get to the action!
---
Phone Sex is for men who want to open up, try new things, and let someone else take the reins of control without having it affect their real lives. Things that you act out in a fantasy roleplay are not always things you'd do in your real life. That's ok though and really what phone sex is intended for. Because calling a phone sex service isn't an emotional commitment or intimacy to anyone, it's fairly safe to say that you don't have to be cautious with your desires. A phone sex operator is normally open-minded and can deal with nearly any type of fantasy. Great PHONE SEX starts with the mind…it's YOUR fantasy but we can take over and bring you to a powerful climax! You can relax and not worry because all of our phone sex operators know how to handle any subject, topic, and fantasy. You see, our lovely horny phone sex girls do not have taboos. That means that literally, anything goes on your private and personal call. Come on, stroke your cock to a creamy climax with one of our naughty ladies that know how to deliver the ultimate in pleasure and fantasy.
---
No Mail Outs to your home, and Private Discreet Billing! You Must be 18 Years or Older to call! US and Canadian Residents only!
Please have your credit card in your hand when you call.