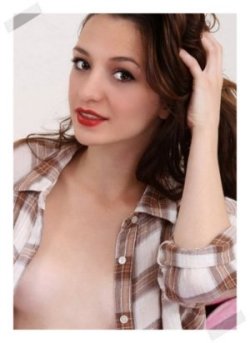 Hi guys… I'm Brianna, a 19-year-old hottie from sunny Florida. I have to admit I am a bit of a kinkster and pervert. I like any and all kinds of sex talk and the dirtier the better. I'm experienced for my age but mainly that's because I always find ways to get into trouble! What can I say? I love sex, I love men, and I love to try everything at least once. I have lots of sexy stories to tell you and it makes me so hot to share them that I can't help playing with my pussy. I've yet to find any guy nastier than me, I've got so much to share with you…. Wanna masturbate together? Or if that is not your style, let me tell you that I LOVE roleplay! I'm creative and love to explore new things. I am a NO TABOO chick… we can talk about ANY filthy fantasy that you might have!
My rates are listed below but let me tell you how it works. If you are a new caller, you can dial the number and pay through an automated system. No "live" person will have your credit card number. Also, you have more control over what you spend. See you are verified to talk for 5 minutes, and then if you want to talk longer you can simply add more funds every 20 minutes. Now, these are not flat rate charges which means you are ONLY billed for the amount of time you actually talk to me. So if you elect to talk longer and only want another few minutes that's fine because that's all you are charged.  Your CC is "authorized" to make sure you have the funds available but the actual charge happens when the call/s are finished. It's just a simple hold on your account.
If you are a really horny guy that likes long calls… it's the easiest thing to set up an account online. This way, you still add funds to your account and but you can add the top amount you want to spend in one "chunk". Most guys add $100 for example. Those funds remain in your account until they are used up. You will never lose that money. This is a smart way to do your billing if your spouse or partner is nosy and you don't want them to see a bunch of different charges.
---
Pay by Phone
Pay Online
Your Privacy
Pay by Phone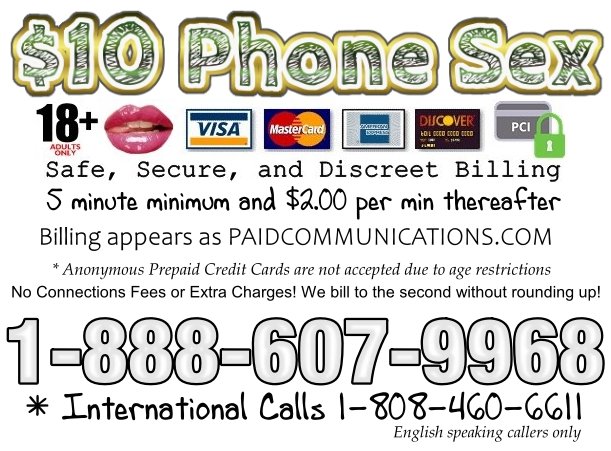 No Mail Outs to your home! Time for calls is billed down to the second and minutes are not "rounded up". Billing is more accurate with fewer errors. You have more control over what you spend with our automated system.
Pay Online
You can create an account online, add funds to your account, and then go wild with your phone sex fantasy with any lady of your choosing. It's EASY! And there are cool features. You can send messages to every girl to ask her if she would enjoy your fantasy completely for free. You can save your "favorites" so you always have quick access to them! There is so much more! 

Your Privacy
Because we deeply care about your privacy we have set up a telephone system where you can enter all of your own credit card details. You have the control over what you spend, no operator can rack up the minutes with us. But also your information is NEVER in the hands of a live human. 
The system is Automated. You'll enter all of your own details when you call. But when you call again, the system is so advanced that it will remember you by your telephone number. The result is much quicker call transfers and very little hold time to get to the action!
---
Phone Sex is for men who want to open up, try new things, and let someone else take the reins of control without having it affect their real lives. Things that you act out in a fantasy roleplay are not always things you'd do in your real life. That's ok though and really what phone sex is intended for. Because calling a phone sex service isn't an emotional commitment or intimacy to anyone, it's fairly safe to say that you don't have to be cautious with your desires. A phone sex operator is normally open-minded and can deal with nearly any type of fantasy. Great PHONE SEX starts with the mind…it's YOUR fantasy but we can take over and bring you to a powerful climax! You can relax and not worry because all of our phone sex operators know how to handle any subject, topic, and fantasy. You see, our lovely horny phone sex girls do not have taboos. That means that literally, anything goes on your private and personal call. Come on, stroke your cock to a creamy climax with one of our naughty ladies that know how to deliver the ultimate in pleasure and fantasy.
---