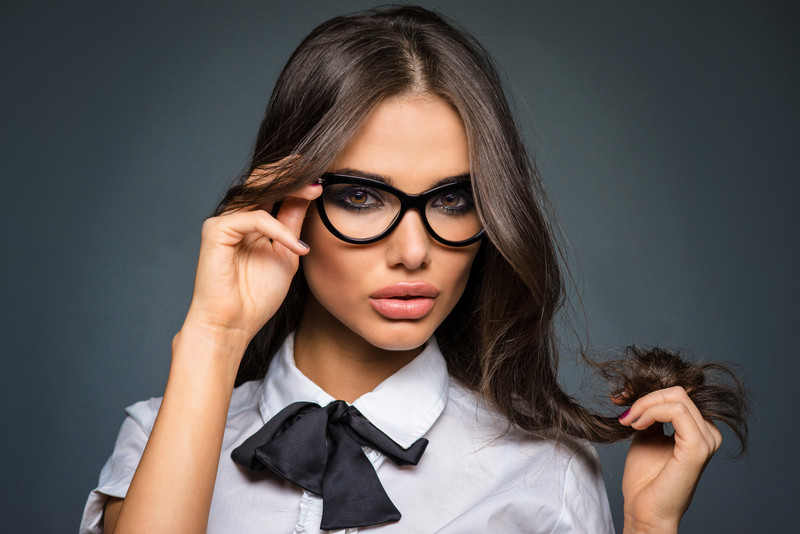 You were annoyed that you got passed over for that promotion, that was until SHE showed up. After you were introduced to the new boss you sat alone in your cubicle… right outside of her office pondering what it was going to be like working with such a hot woman. Her long dark hair and that natural sex kitten pout made you stutter when you said hello to her.  You noticed she was as intelligent as she was hot. It might not be so bad losing that promotion.
At lunchtime, your department has a celebratory lunch for your new boss. She's smart, witty, highly educated, and even a bit intimidating. You start thinking about how much fun it is being the only male on the team. Most of the other ladies are frumpy women which only makes your new boss even sexier. You keep catching yourself staring at her and when she notices you quickly look away. Hopefully, she doesn't sense how nervous you are being near her. You can smell her soft perfume and hair when she passes by.
At 4:30 pm you get an email from her about staying late this evening to work on the Spreadsheet with her. God damn it! You text your wife to let her know. You blame your new boss and she understands. As you watch the rest of the office clear out for the day… you grab your flash drive and head to her office.  She's sitting at the desk with her legs up on in reclining in her chair. She looks awfully comfortable. This is the point where she tells you that she noticed how nervous you were around her.
You are embarrassed and maybe even blush a bit. She suggests that you are going to need some extra help at work and she is willing to take you under her wing. Then she asks you to strip naked and give her a sensual foot massage. You do a double-take, but she repeats it. Strip naked. Now.
Call now and finish this fantasy. Become the sex slave of your domineering and super sexy boss.
5 Minute Quickie $10
$2.00 per minute thereafter.



No Mail Outs to your home, and Private Discreet Billing!
You Must be 18 Years or Older to call!
US and Canadian Residents only!
---
You can create an account online, add funds to your account, and then go wild with your phone sex fantasy with any lady of your choosing. It's EASY! And there are cool features. You can send messages to every girl to ask her if she would enjoy your fantasy completely for free. You can save your "favorites" so you always have quick access to them! There is so much more! 

Phone Sex is for men who want to open up, try new things, and let someone else take the reins of control without having it affect their real lives. Things that you act out in a fantasy roleplay are not always things you'd do in your real life. That's ok though and really what phone sex is intended for. Because calling a phone sex service isn't an emotional commitment or intimacy to anyone, it's fairly safe to say that you don't have to be cautious with your desires. A phone sex operator is normally open-minded and can deal with nearly any type of fantasy. Great phone sex starts with the mind…it's YOUR fantasy but we can take over and bring you to a powerful climax! You can relax and not worry because all of our phone sex operators know how to handle any subject, topic, and fantasy. You see, our lovely horny phone sex girls do not have taboos. That means that literally, anything goes on your private and personal call. Come on, stroke your cock to a creamy climax with one of our naughty ladies that know how to deliver the ultimate in pleasure and fantasy.